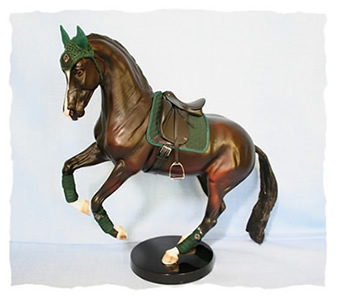 Offers - Finished Tack Sets
Please join my yahoo group to keep up on the latest offerings from Tackbyjana saddlery http://groups.yahoo.com/group/jscustomtack/. Finished tack sets, openings in custom books and auctions will be announced to members of this group.
What's included:
Black dressage saddle with my all usual details (custom made saddle tree, hand sewn at stress points, premium quality smooth calf leather, stitchmarks where appropriate, adjustable stirrup leathers, etc...)
Matching girth which will be made after the auction to make sure it fits a model of your choice
Free shipping worldwide
The model shown on the pics, the saddle pad, the fly bonnet, the polo wraps and the saddle stand are NOT included.
You are bidding on the saddle and the girth only.
Bridle and other accessories can be ordered.
Time payments available.
TOP LSQ Black Dressage Saddle - ON HOLD!
Deadline - Sunday 10/13/2019
To make an offer, or if you have any questions please email me at janisek7@yahoo.com